Worship At Honey Brook United Methodist Church
You're invited to worship with us at Honey Brook United Methodist Church - our Sunday School is from 9:30am to 10:30am, and our Worship Service is at 10:45am. We hope you will join us in a Fellowship Time after the Worship Service. We are located at 4510 Horseshoe Pike in Honey Brook, PA 19344 (in some places on the Internet you may see Honeybrook spelled as one word, but the correct spelling is two words, Honey Brook). Honey Brook is a community in Chester County in southeastern Pennsylvania. Additional parking is available on Maple Street across Horseshoe Pike from the church. We have a chair-lift to the sanctuary.
When you worship with us you will experience a blended service of both traditional and contemporary music. Your spirit will be lifted by the voices of our adult choir, a real pipe organ, and a message directed to your day to day experience, all the while you are surrounded by 11 stained glass windows and are seated among Christians of all living generations. Our pastor offers a children's sermon every Sunday, and nursery is available for small children. We are a small church where you will have an opportunity to get to know everyone and make new friends.
Pastor Ray Voran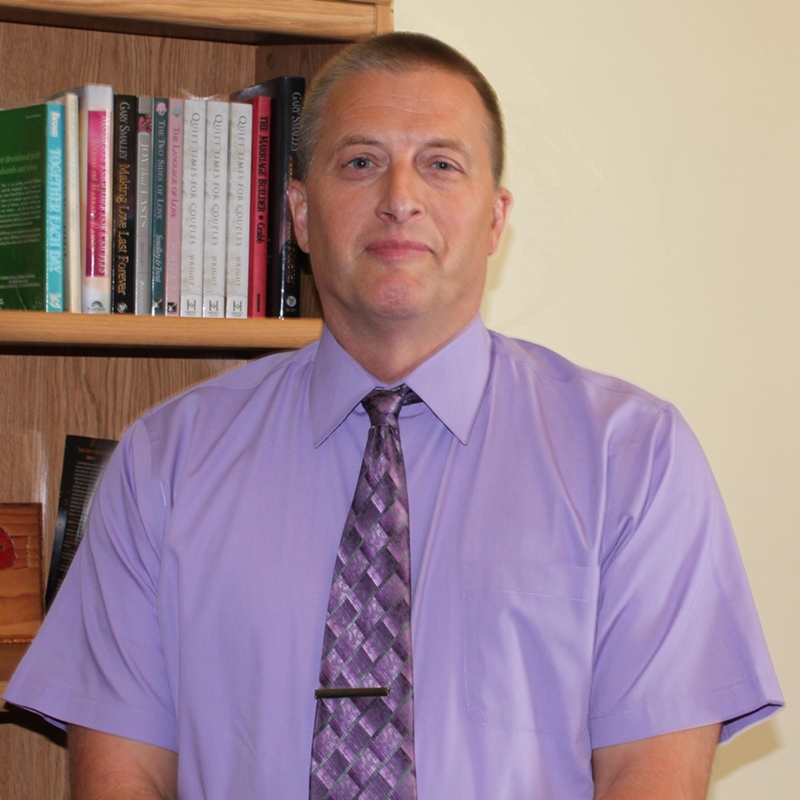 Pastor Ray Voran comes to Honey Brook UMC after serving as Pastor at New Holland United Methodist Church since 2012. Prior to that he served as the Associate/Youth pastor at New Holland Evangelical United Methodist Church since 2001. Pastor Ray attended Evangelical Theological Seminary, attaining a Masters of Divinity in 2009.
A graduate of Lebanon Valley Collage, Pastor Ray spent 11 years as a caseworker with the PA Department of Welfare working in the Lancaster County Assistance office and three years as a drug and alcohol counselor prior to being called into the ministry. Pastor Ray enjoys teaching and working with people of all ages, and has a passion for ministering to others outside the church in the local communities.
Pastor Ray and his wife Valerie live in Brownstown, PA where Valerie is a nurse in a family practice. They have two grown children; their daughter Sara is married to Kris Pursel and their son Ben is married to Sarah.
Pastor Ray will serve Honey Brook UMC part-time and while continuing to serve New Holland UMC part-time as well.